All About Coconut and Chartreuse
Coconut and Chartreuse is a food and drink blog chronicling one amateur cook's adventures in the kitchen. Like it says, it's about two things: Food and Drink.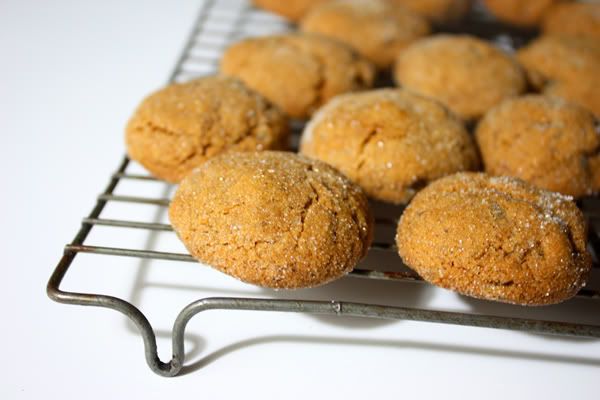 Vegan Molasses Cookies (circa Winter 2011)
The Food
There are three defining factors for the food in this blog:
The food is vegetarian, if not completely vegan.
I like to call myself the unethical vegetarian. I eat the way I do out of preference rather than moral motives. I've been doing it for the better half of my life, going on 18 years. It's a bit of habit after that amount of time. I don't expect to add meat back into my meals at any point in the future.
Now I am starting this blog as I begin on an experimental two weeks of plant-based eating. Out go the dairy products, out go the eggs. This is a big challenge, because I love cheese and ice cream. I mean, I
love
cheese. If I could only eat one thing for the rest of my life, it would be cheese. Every meal. Even for dessert. A buttery smooth brie smothered in cranberry preserves and placed under the broiler until it has a salty caramelized crust. Creamy goat brie warmed to room temperature and paired with a nutty wasa cracker. Fresh ricotta dolloped on an herbed egg white omelette. Fresh grated Romano tossed with garlic, olive oil and homemade fettuccine. And Humboldt Fog. I am salivating as I type this. Humboldt Fog is my kryptonite. I can't even go near the backside of Whole Foods at the moment for fear I'll have some moment of weakness and order a finger's width of that magical creamy, tangy goat cheese. I just eat that straight up. Hit me.
Okay. Hold on. No cheese for two weeks. I can make it. Cheese isn't everything. I'm going to repeat that ten times and have a sip of coffee with almond milk. I'm going to survive. This is part of the reason why I'm temporarily eliminating the dairy. Can you tell? I get a bit out of control at times, beyond healthy moderation. But I mean, how can anyone enforce moderation where cheese is concerned?
I'm also mildly obsessed with coconut.
At one point I had six different forms of coconut in my house. Two actual coconuts, coconut milk, coconut cream, coconut water, coconut flakes and coconut extract. I've since reduced it to three. I've supplemented the coconut products by naming my blog in tribute.
There will also be a monthly coconut recipe heading down the assembly line as well. I'm calling the series Coo-Coo For Coconut. If you want a sneak peek at the recipes ahead, you can check out my pinterest board, where I have been loading up with fabulous
Coconut Creations
to try out in my kitchen.
Lastly, I'm a baker at heart rather than a cook.
Of all the recipes I've chronicled and photographed over the years, the theme of those prideful moments is flour, sugar and butter. I'm not a chocolate person, so more often than not, they're fruit-based endeavors. So for all of entrees I might share, there will likely be a 2-to-1 ratio of dessert-to-main dishes.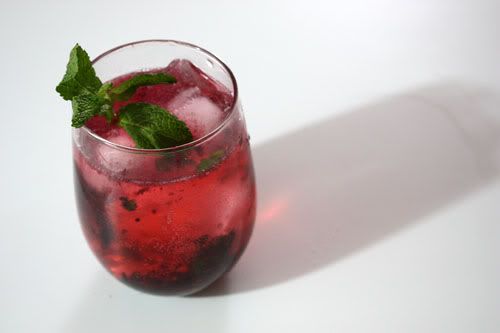 Blackberry Mint Vodka Cocktail (Summer 2011)
Drink
Cocktails. I have no formal training, but a great deal of enthusiasm and ability to follow a recipe. I can sum up the defining characteristics of the drink I enjoy in a word list. Here we go:
Gin. Basil. Mint. Herbal. Light. Dry. Clean. Fresh. Muddled fresh berries. Bitters. Tonic.
Again, I have a
pinterest board
rearing to go with a set of drinks that I hope to try as this blog develops. Please feel free to take a peek and let me know if you have any recommendations to pin on the list.
Now my favorite drink of all time is called The Last Word. It's a prohibition era cocktail that is seeing a vibrant comeback in the mixology world. I was first introduced to the cocktail at my favorite waterhole,
Drink
, located in the Fort Point district of South Boston.
Drink is an amazing basement level bar tucked beneath Barbara Lynch's Sportello. The word bartender doesn't remotely do these mixologists justice. What they do is truly an art. Ingredients are freshly made on location from bitters to simple syrup and fresh pressed limes. They sport bowties, aprons and vests. There is no cocktail list - you simply tell them the type of drink you enjoy - a flavor, a feeling, an ingredient - and like magicians they produce a personalized drink for your pleasure. The Last Word was
my
drink, embodying everything I love in a cocktail. And thus comes the second half of the blog name - my love affair with Chartreuse.
1/2 ounce gin
1/2 ounce Chartreuse
1/2 ounce Maraschino liqueur
1/2 ounce fresh lime juice
Shake ingredients over ice. Strain into an adorable cocktail glass.